Nare Court
Nare Court is a beautifully designed, maritime style building. Situated on a clifftop overlooking the sea and Mevagissey harbour, the Penthouse dominates the harbour entrance.
In a location officially designated as 'An Area of Outstanding Natural Beauty', Nare Court is blessed with one of the most spectacular settings in Cornwall.
The Penthouse
The Penthouse is the jewel in Nare Court's crown. Spanning the entire length of the central roof, it commands magnificent views of the outer harbour, coastline and sea. The Penthouse sleeps up to 4 guests, including a master bedroom with ensuite shower room, a twin bedroom, separate bathroom, lounge and kitchen/dining room. Floor to ceiling glass doors and windows front the lounge and kitchen/dining area, bathing the Penthouse in light and opening directly onto a 25ft x 4ft balcony. The panoramic views are breathtaking.
Imagine waking up to this inspirational view every morning. You can admire the sunrise while you enjoy breakfast and watch the fishing boats sail past, returning home with the night's catch. The scene is ever changing – from rowing boats to rainbows, full moons to fishermen, sunrises to sailing boats.
A room with a view
In the evening you can relax with a drink on the balcony and marvel at the ever-changing light show. On a clear night the stars glow brightly, unspoilt by neon streetlights or city pollution. A bright full moon can transform the sea into a blanket of sparkling silver.
Designed to the highest specifications, the Penthouse is private, yet just 500 yards from the heart of Mevagissey – a five-minute walk to the shops, restaurants, pubs, museums and harbour.
The Penthouse also benefits from one reserved, covered parking space in the courtyard, directly outside the Penthouse. This is a real asset in Mevagissey, where parking spaces can prove difficult and expensive to find. One additional parking space may be available on request.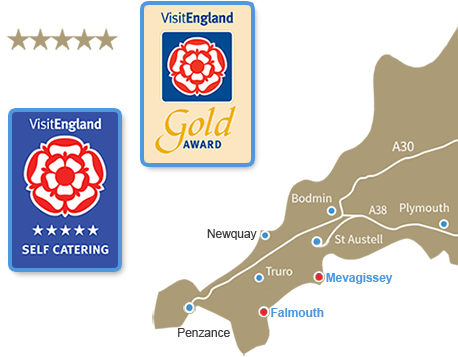 A home for all seasons
Modern central heating and Swedish triple glazing keep the Penthouse warm at all times, even on the freshest winter day. The ceiling to door glass windows also mean the stunning views can still be enjoyed even in cooler weather, from inside.
The Penthouse is truly unique. Five star luxury, combined with such a spectacular setting and views, make for an unforgettable holiday at any time of year.
The Penthouse is a strictly no-smoking property and no pets are permitted.

To book the Penthouse for your holiday, or for further information, please contact us
Penthouse Holidays

Unique Properties in Spectacular Locations
T: 07725 562563
E: cornwallpenthouseholidays@gmail.com